Make a lasting impression
__________
Your logo should do more for you than just "look nice".
Maybe your logo is non-existent, or doesn't reflect you or your business ambitions at all.  Neglecting your brand visuals leaves clients on the sidelines and turns away potential income.  Brand identity & logo development is for you whether you are just starting out, or are an established business owner looking to take things to the next level.
What if you had…
+ A visually stunning, cohesive approach designed to attract your dream clientele
+ A visual identity that positioned your business in a way that you could feel confident it illustrates your true value
+ Clarity, vision and focus for what your business stands for and where it's headed
RESEARCH
You will fill out a brand positioning questionnaire, providing us with info on where you are at with your business, and where you are headed.  We then do some visual brainstorming via Pinterest to give me a window into your personal + professional aesthetic.
STRATEGIZE
I take an in-depth look at your target clientele, who they are, their values and what shapes their purchasing decisions.  I pull it all together in one cohesive creative brief, providing direction on where we will position your brand visually to appeal to your client base.
DESIGN
Based on our work together, I will pull together 2 mood boards with coordinating palettes for you to select from.  Once your selection has been made, we design your brand from the ground up: logo, submark and any other brand assets you have selected.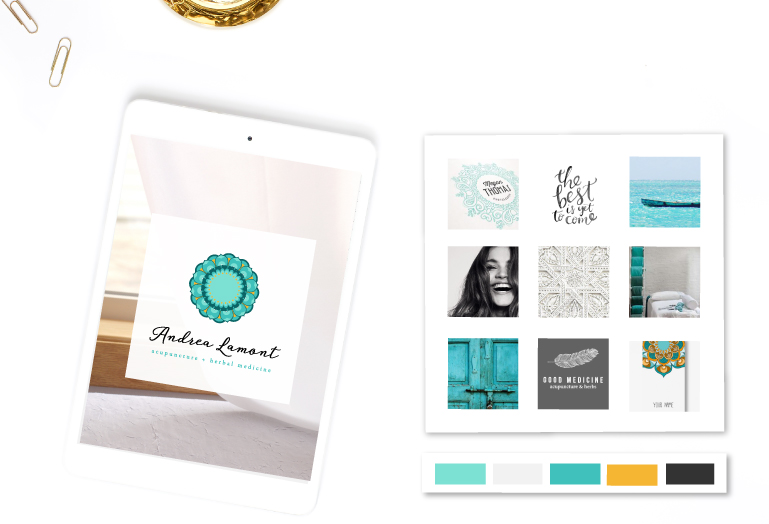 Brand and Logo Development includes everything you need
to launch your new look:
Primary logomark
Secondary logo variation
Submark/Stamp design
Full Brand Style Guide
Colour codes & coordinating font recommendations
Pattern or texture pairing
Social media profile images
Facebook banner design
Brand launch materials
Double-sided business card design
packages starting from $1295
READY FOR THE DETAILS? DOWNLOAD MY SERVICES & PROCESS GUIDE